Contact Us
Call us during our normal business hours, Monday through Friday from 8 AM to 4:30 PM Pacific
or email us using our online email form.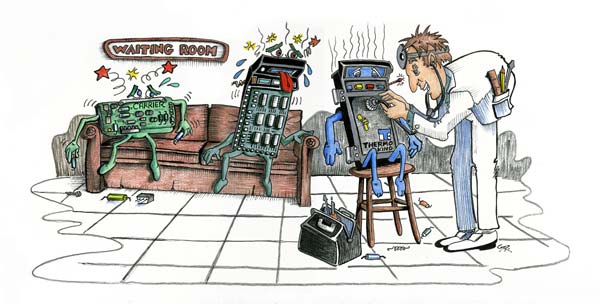 Telephone: (707)-425-0108
Fax: (707)-425-2413
Mailing Address
Erickson XL, Incorporated
1735 Enterprise Drive, Suite 102
Fairfield, CA 94533
Our Rebuild Process
Reliable control components are essential. Our efficient rebuild process focuses on reliability from the minute we receive your equipment. Each piece is cleaned, repaired, and often upgraded.
First we tag, chemically clean, then dry your equipment in low temperature ovens. Each piece is inspected for broken, burnt, corroded, and damaged components. Our rework assemblers work their magic here.
Next, our staff of electronic technicians begin testing and repair at custom designed test stations. Besides inspection under bench conditions, they test units with extremes of temperature and vibration. This brings out the most elusive bugs. Thorough test procedures coupled with test data sheets insure painstaking attention to detail.
Equipment repair histories and engineering expertise combine to fuel our preventative maintenance program. We don't stop at just component replacement. Components with high failure rate histories are replaced with upgraded components even before they fail. Our preventative maintenance program and attention to detail insures that our rebuilds will be working long after the one year warranty period.